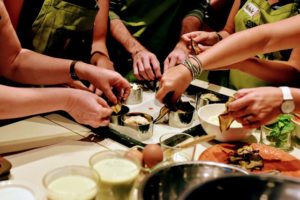 Elevate your business to a whole new level with team building and bonding classes with the number one ranked cooking school in Atlanta – The Cooking School at Irwin Street.
We offer a full menu of classes that will bring your team closer while having a great time, a great learning experience…and a great meal. We help
you choose the perfect menu, we learn as much as we can about your objectives and we deliver a great time for all.
We've worked with some of the top companies in the country… from Delta Air Lines to Brighthouse to Nike to Coca Cola and we want to work with you next!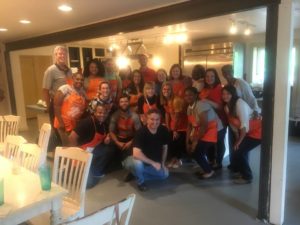 Our location is conveniently located adjacent to Interstates 75-85 in the heart of the Old Fourth Ward neighborhood. Our facilities include a patio with an outdoor kitchen over-looking the Beltline, a loft style indoor kitchen and a huge gallery and dining space.
We can accommodate small and large teams and pricing begins at $100 per person. Day or Night events are available, Weekdays or Weekends.
View our TeamBuilding FAQ page here.
Contact us at irwinstreetcooks@gmail.com and we'll work with you to create your next great experience.
And…guess what??? Each time you book a class with 9 or more students YOU get a voucher for a class for two in one of our public classes. Talk about a great perk right?
We love our clients and they make us love what we do even more…
Accenture
AECOM
Alston & Byrd
Boston Consulting Group
Brighthouse
Coca Cola
Delta Air Lines
Espyr
Five Below
Floor & Décor
Hiscox
Home Depot
Mailchimp
Nike
One Source
Porsche
Troutman Sanders
(just to name a few)