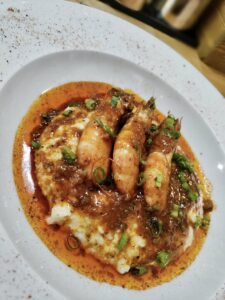 Learn how to make a local favorite, you will be shown how to slow simmer whole head-on shrimp in a herbed and spiced butter sauce. Traditionally served with french bread for sopping, we will share a modern twist using savory smoked gouda grits! This Creole influenced dish's name has persisted for generations despite using no barbecue sauce at all; come and learn how the savory drippings allow New Orleans style barbecued shrimp to be a Louisiana speciality.
MENU: Jumbo shrimp in the shell cooked in a peppery butter sauce served over smoked gouda grits, with roasted asparagus and old bay seasoned corn. We will also make another French Quarter Fave – Spiked Lemonade.
Upcoming Dates:
Sunday November 21st at Noon
Saturday December 11th at 11am
Sunday December 12th at 11am

**Very Important**
Because alcohol is served in this class, there will be no students under 21 admitted – no exceptions. Thank you for your understanding.