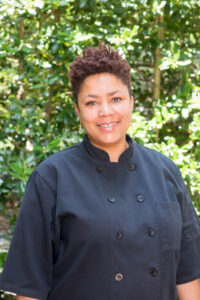 Asata Reid has been a professional chef for two decades, and a health educator for over 15 years. Many years ago, Asata and her dear friend Jake started a little cooking school that has grown up to be a jewel in the Atlanta community. As a wife and mother, Asata enjoys slow family meals. Her superpower is getting people to love eating their vegetables. In 2021, she self-published her first book How to Feed a Kid: A Parent's Guide available on Amazon.com.
Asata founded Life Chef LLC, a culinary education service which focuses on healthy cooking and nutrition for all of life's stages. She is also the founder and President of the non-profit Feed the People Co.(501c3) formed to help improve food access, food affordability and food equity in the community.
As a partner in Small Bites Adventure Club, Chef Asata developed recipes to help children discover, eat and love their fruits and vegetables. She has taught her Cooking and Nutrition classes in an afterschool program for eight years in grades K-5 at Drew Charter School, where she supports the Healthy You Healthy Drew programs across all three academies, and launched the Cooking Club for the senior academy. Asata also provides training and professional development for educators and agencies who feed children on farm-to-school initiatives, culinary education and menu development.
Asata holds a Master of Public Health from the Rollins School of Public Health at Emory University (2020), a Master of Education, Curriculum and Instruction from the University of Kansas (2016), and a Bachelor's in Journalism from Florida A&M University (1996). She is also an honors graduate of the International Culinary School at the Arts Institute of Atlanta.