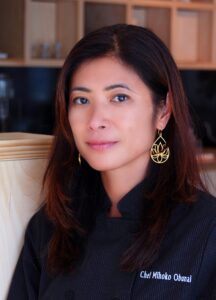 Mihoko was born and raised in Tokyo Japan. She moved to New York City to attend New York University , and received a degree with education from NYU and a culinary degree from French Culinary Institute in Née York City.

After the 911, Mihoko relocated to Atlanta in 2005, co-opened Restaurant Repast in Midtown Atlanta. Mihoko incorporated her Japanese influences, ingredients and cooking techniques to her menu at Repast, Repast was nominated for the best new restaurants in US and received Four star by AJC.

Mihoko's career has been featured in various publications and invited cooks at James Beard house in Née York City. In 2010 she was selected as a Rising Star Chef and later competed on the Food Network's Chopped.

Mihoko also trained with Chef Jack Nakamura her ramen mentor at Ramen Lab in New York City she later launched her own ramen pop-ups Mibo Ramen in Atlanta and other cities. Having helmed successful Ramen pop-ups nationwide, Mihoko continues to amaze with her subtle blend of traditional technique and bold, savory innovation. In 2015 she was one of five "ramen masters" which she was crowned champion featured in the Ramen Battle at the StarChefs International Chefs Congress in New York City.

Mihoko is a great educator and communicator to articulate her cooking skills, she has taught culinary arts degree programs at Le Cordon bleu, Art institute of Atlanta and also chef/ instructor at cooking school at Irwin street.
Mihoko is able to enjoy her free time with her family and keep a low profile by practicing yoga and riding her Peloton bicycle in Decatur.