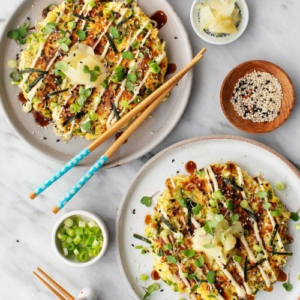 Join Japanese chef Mihoko as she takes you on a journey through the aromas and sights of the sizzling streets of Japan!

Okonomiyaki: delightful savoury pancakes which are filled with an array of meats and vegetables of your choice.

Yakitori Chargrilled Chicken Skewers: this Japanese street food is a hit with commuters looking for a quick snack, dipped in salty or sweet sauces and char-grilled or baked in an oven.
Teriyaki Sauce: will make your own sweet, salty BBQ sauce .
Comes with authentic miso soup.
Upcoming Dates: