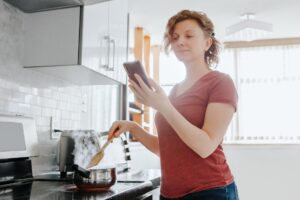 To our dear and wonderful fellow team builders
We hope this finds you safe, happy and healthy. Although we have not had the privilege of seeing you in person in quite some time, please know that we are thinking of you.
Over the past few months, our goal has been to continue to develop our teaching approach so that it meets your unique needs in this ever evolving corporate climate. With that being said, we are excited to enter into a new chapter of the cooking while team building paradigm.
Introducing the Cooking School Virtually!
Our virtual classroom environment provides our clients and your team with an opportunity to learn to create a great dish or meal while you learn more about each other. You will receive direction and personal feedback from one of our charismatic, expert instructors. And you we'll meet your team in our classroom setting via the privacy of your home PC.
We take care of the logistics, making registering for classes easy. Simply:
1. Determine your curriculum.
2. Book your date.
3. Provide the list of participants and their contact information.
4. Ingredients are shipped directly by our masked and gloved team, in a sterile environment.
5. Participants receive their supplies the day before class to ensure freshness.
We would like to schedule time with you to answer any questions you may have or to discuss developing a personalized program that meets the need of your organization. Please respond to this email with your availability for this discussion or feel free to respond here. I am happy to chat via email at jdratlanta@gmail.com and if you need a phone call…no worries. Just let us know and we'll schedule time with you.
Thank you for taking the time review our exciting program changes. We look forward to connecting with you soon.
Excited and grateful,
Jake Rothschild
Founder, The Cooking School at Irwin Street