Masarap Philippines (Delicious Philippines): An Introduction to the Flavors of the Philippines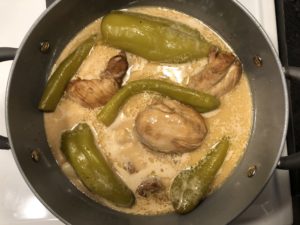 Class Description:
Discover the exciting flavors of Filipino food. The Philippines is one of the largest archipelago nations in the world with over 7,100 islands with a culturally rich history that is reflected in its food. This class will be an introduction to this cuisine through a few of the country's popular dishes. During this class, you will learn how to make a Filippino party favorite, our national dish, and a dessert classic.
Class Menu:
Lumpia Shanghai – These spring rolls are a mixture of meat (ground pork or chicken), vegetables, onion and garlic wrapped in a thin rice wrapper and deep-fried. With a pepper vinegar and soy dipping sauce.
Chicken Adobo (Adobo Manok) – Adobo is the national dish of the Philippines. This version is a tangy stew of chicken marinated in vinegar, soy sauce, garlic, black peppercorns, and coconut milk.
Atsara – This is a pickled salad of vegetables with green papaya as the main ingredient.
Upcoming Dates:
Saturday, July 18th at 3pm