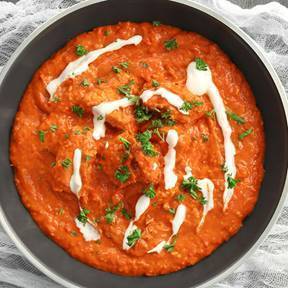 Ash and Rob are childhood sweethearts who learned cooking together to make their busy life of "growing up" easier and fun! When asked to name the best Indian restaurant in town, they laughingly say "their kitchen." See them unravel some popular Indian dishes so you can enjoy making them at home too!
In this class, you will learn:
Butter Chicken: Similar to Chicken Tikka Masala, this is one of the most popular curries at any Indian restaurant around the world. Tandoori spiced chicken pieces are cooked in an aromatic tomato based creamy curry sauce.
Spinach and Potatoes: Also called Palak Aloo Sabji, this is an Indian Style stir fry that can be eaten alone or as a side dish to any Indian curry.
Cucumber Raita: This quick and flavorful yogurt side dish cools any spicy entrée and can be used as a condiment to enhance the Indian meal.
Naan: If you're unfamiliar with naan, it's basically just an Indian style flat bread that is perfectly served with Indian curries and stir fry's (sabjis).
Upcoming Dates:
Sunday, January 5th at 3pm and 6pm
Sunday, February 2nd at 3pm and 6pm