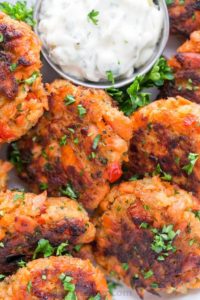 With the heat wave that promises to linger all summer…how about a meal that fills, refreshes and delights all at the same time?

We'll start with a pesca salad with fresh mozzarella and basil with your own take home vinaigrette made with champagne vinegar. Then we'll dive into some decadent street corn with taste of Old Bay and then, with fresh shrimp and salmon we'll make seafood cakes served on a bed of spinach with a citrus aioli.

If you are gluten free..no worries, you can join in the fun too, with a gluten-free option!
Upcoming dates:
Saturday Aug 24th at 7pm