Breakfast Nachos w/ "Sausage", Scramble and Pineapple Salsa

Everything Buffalo Cauliflower Bites w/ Blue Cheese Dipping Sauce

Savory Waffle Bowl
Join special Guest Chef Dustin Harder, host and creator of The Vegan Roadie for the ultimate vegan brunch. You'll learn the art of vegan brunch, cooking recipes from Dustin's new cookbook, "Epic Vegan."
In this class, you will make:
Breakfast Nachos with Sausage, Scramble and Pineapple Salsa
Everything Buffalo Cauliflower Bites with Blue Cheese Dipping Sauce
Sweet Potato Waffles with Vegetable Tofu Ragout and Coconut Cheddar Fondue
Blood Orange Mimosa Floats
Plus, all students will receive a copy of "Epic Vegan".
Upcoming Dates:
Saturday, July 20th at 11am
**Please note: because of the higher cost of this class, there will be a $26 per couple upgrade fee on bookings using Gift Certificates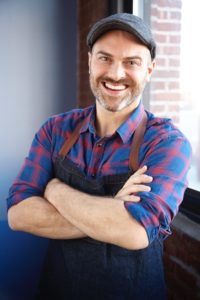 Dustin Harder is the host and creator of the original vegan travel culinary series, The Vegan Roadie. A plant based personal chef, author, recipe developer and graduate of the Natural Gourmet Institute in NYC, he believes plants not only make the world a beautiful place but a tastier one as well! Living la vida vegan since 2009, Dustin has served as a recipe developer in the test kitchen of Food Networks Cupcake Wars winner, cookbook author and entrepreneur Chef Chloe Coscarelli. Dustin has been featured in such publications as Eating Well, VegNews, Vegan Lifestyle Magazine, and Paste Magazine and has written two cookbooks, The Simply Vegan Cookbook and Epic Vegan.