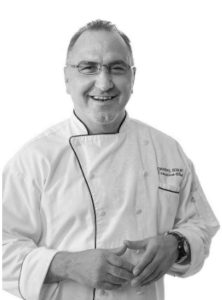 Chef Darryl Start is a Certified Executive Chef with the American
Culinary Federation (ACF). He currently holds the position of
Executive Chef with Piedmont Healthcare in Atlanta. During the
course of his career, he has worked as Executive Chef and
Executive Sous Chef with the Marriott Corporation. Creating an
Ice Sculpture of the Atlanta Skyline for the ACF National
Convention was a noted highlight of his time with Marriott. Chef
Start's scope of experience also includes Resort Chef experience
with the Walt Disney World Corporation.

Good Day Atlanta, the Food Network and Southern Living
magazine have quoted Chef Start as an expert in the Culinary
field.

Chef Darryl Start has extensive experience with training students,
judging competitions and culinary presentations with recognition
as "Most Entertaining Chef for Taste of Atlanta".
Join Chef Darryl for Knife Skills and Cutlery Class