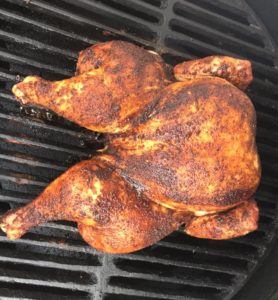 Smoked Chicken
Get ready to up your poultry game for end of summer parties and tailgating!
We are going to teach you how to take plain ole chicken and make that bird sing with flavor!
We'll cover all the basics:
– the right cooking temperature
– type of wood to use
– seasonings and rubs
– know when the chicken is fully cooked
Cooking techniques:
– kicked up beer can chicken
– smoked chicken wings
– spatchcock chicken
– chicken legs 2 ways
Recipes will include:
– smoked chicken
– summer orzo salad
– another seasonal side
– classic poultry rub (which you will make and take home with you)
**Important notice – Discount Vouchers will not be accepted for this class.
Upcoming Dates:
Saturday August 19th at 2pm