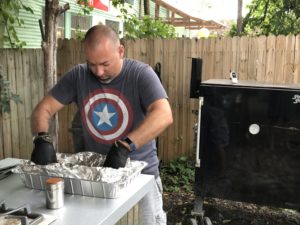 Introducing… Pitmaster Ed Gaile
Nothing brings people together like good food. For Ed Gaile, no food does that better than BBQ. Slow smoked meats steeped in tradition and homemade sides that will make your taste buds do a dance. BBQ is the great equalizer, where people of all backgrounds can sit down together and enjoy each other's company.
Ed is a perpetual student of classic and new BBQ techniques. Applying his skills on the competition BBQ circuit for the past four years, he has garnered multiple awards. From slow and low smoked chicken, pork, and beef to sauces, rubs, cold smoked cheeses and salts, get ready to have a blast as Ed helps you unleash your inner Pitmaster!
Ed shares his love for BBQ with his wife, daughter, and friends… and looks forward to sharing it with you too!