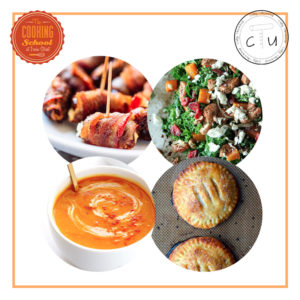 Fall Comfort Foods
Fall Comfort Foods, with Chef Cody
Come Join Chef Cody for "Fall Comfort Foods"
Get ready to cozy up for fall with some classic comfort foods. Start with warm, glazed, bacon-wrapped dates stuffed with melty goat cheese. Keep things light and fresh with a hearty kale salad packed with classic Autumn flavors, then dive into creamy butternut squash soup with a hint of smoky spice. Finish things off with sweet + salty caramel apple hand pies and a scoop of Jake's Ice Cream!
Don't forget – our classes are usually BYOB, so feel free to bring your favorite bottle of wine to enjoy in class!
Fall Comfort Foods Menu
Bacon Wrapped Dates
Autumn Kale Salad
Chipotle Butternut Squash Soup
Salted Caramel Apple Hand Pies
Date:
Saturday, October 1st at 7pm
Friday, October 21st at 7pm
About Cody T:
Founder of Cody Uncorked, Cody is a food blogger and full-time digital public relations specialist. She grew up eating home-cooked meals with her family, but didn't start cooking until she was in college at The University of Georgia. Since graduating, she has continued to share new recipes and techniques through her blog and has been featured by Bon Appétit and Jezebel Magazine. Cody loves to show people how cooking can not only be delicious, but also easy, fun and the perfect way to show people just how much you love them!