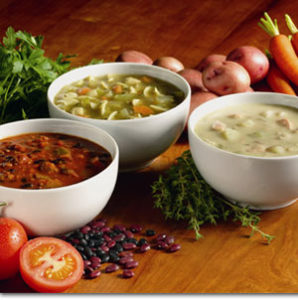 Soup's On!
Come join Special Guest Chef Diana Presson Eller for a very special class at Sweet Selma Farms in Historic College Park.   
Get ready to settle in for the chilly winter months to come with an all-access pass to how professional chefs create their best Soups du Jour! You're invited to learn how to build deep, rich flavor (while saving money!) by creating your own lovely stocks and broths. This class is designed to teach you the fundamentals along with many tricks of the trade employed by farm-to-table chefs. It will have your soup game set and ready to impress; beit for at an elegant dinner party or simply snuggled up for a cozy night in.
Soup's On! Menu
What's at the Market today? Tuscan-inspired seasonal vegetable soup
Shrimp bisque
Curried, local, winter squash soup
***I'm Local: This class has been created by a chef-friend of local urban farmers and Georgia Organics certified farmers; it takes a Farm-to-Table and Low-Waste/Low-Carbon Footprint approach to feeding you and yours.
Class Dates:
Saturday October 22nd at 3pm
at Sweet Selma Farms, Historic College Park