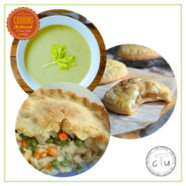 Feb

13
Tags
Related Posts
Share This
Date Night: Spring Comfort Foods

Date Night: Spring Comfort Foods
Learn to make flaky, versatile pie dough and homemade chicken stock. From those we'll make a vibrant and comforting spring meal of creamy celery soup, savory chicken pot pie and sweet apple hand pies.
Menu:
Creamy Celery Soup
Savory Chicken Pot Pie + Arugula Salad
Salted Caramel Apple Hand Pies
Date:
Friday, March 18th at 7pm
Saturday, April 23rd at 7pm
About Cody T:
Founder of Cody Uncorked, Cody is a food blogger and full-time digital public relations specialist. She grew up eating home-cooked meals with her family, but didn't start cooking until she was in college at The University of Georgia. Since graduating, she has continued to share new recipes and techniques through her blog and has been featured by Bon Appétit and Jezebel Magazine. Cody loves to show people how cooking can not only be delicious, but also easy, fun and the perfect way to show people just how much you love them!