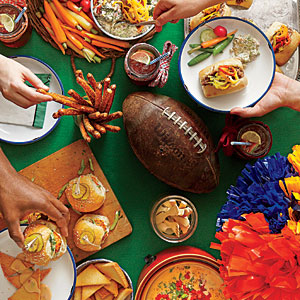 Title: Huddle up… it's TAILGATE TIME!!!
Location:Cooking School at Irwin Street Kitchen

Description: Kickoff the football season with some razzle-dazzle recipes. Bring your beer, your wine, and your friends for some pre-season practice…no matter whose your team…we'll celebrate our love for the parking lot party. Ditch the dogs…great tailgate starts with a great plan. We'll talk tips, but mostly we're about the cooking and eating. (Did I say BYO??) Chillin' while we're grillin'…how 'bout some wings?? Bacon wrapped shrimp, my own stuffed tenderloin sandwich, chips, dips and more! There will be plenty of participation as we bring together an awesome spread. Are you ready for some football???
Dates:
Saturday, September 13th at 3pm
Tuesday, October 14th at 7pm