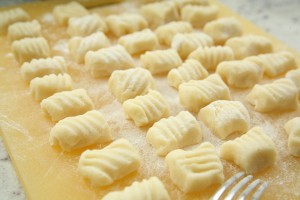 Title: Nona's Gnocchi
Location:Cooking School at Irwin Street Kitchen
Description:  In this class, you will learn 2 variations on gnocchi with 3 uses and the secrets to Nona's Gnocchi.
Appetizer: Gnocchi with sun dried tomato dipping sauce.
Side dish / party casserole: Gnocchi Malachi – gnocchi baked in vodka tomato sauce ziti style.
Main Dish: Gnocchi Sorrento – gnocchi with grilled chicken in a bright lemony bur blanc finished with goat cheese
You will also learn the importance of good kitchen practices, including the value of mise en place, and a light weight version of a commercial station.
Upcoming Dates:
Saturday, May 18th at 7pm  CANCELLED