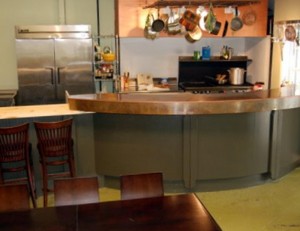 to hug you and squeeze you and teach you how to make pasta!  Almost 7 months later and lots of demolition, construction, stalls, starts, goes, stops and goes again, our kitchen is finally ready for you our beloved students and instructors.
We've moved the class from the main market section at the Irwin Street Market to a new space 30 steps away with gallery walls, set up for private dinner parties and even a stage for Local Music Thursdays at the neighboring Funky Monkey Coffeehouse.
More information will be forthcoming but we wanted to get this up and to you so that you know that we are ready to serve you.  If you purchased a coupon on Groupon or Half Off Depot back in December, never fear.  We're extending your privileges for a full year to give you time to pick a class you like.  And…we'll have other thank yous for your patience when you come in for your class.
***Our scheduling program is up and running now*** to view the schedule visit our Schedulicity page here