Title: Breakfast for Dinner! Uhhh… Yeah!
Location: The Cooking School at Irwin Street Kitchen
Description:
Breakfast for Dinner! Uhhh…Yeah!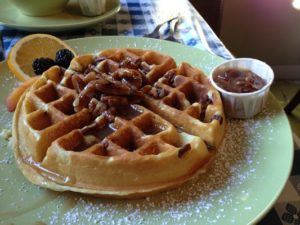 Stripped from the headlines…."Hilda's…A Breakfast to Write Home About!" has been receiving stellar reviews from all over the city. So we decided to share some of our secrets with you, as well as some of Hilda's inspired creations that will make YOUR breakfast the talk of the town.
We have constantly been asked how do we get our Grits, (from our Grits Emporium), to come out so creamy and rich, so we've decided to share that little secret, as well as the base of our "Madea's Buttermilk Waffles". But we're taking our Belgian Waffles to a whole new level by making Bacon Pecan Waffles. Uhhmm Uhhmm Delish. How about a side of our famous Roasted Sweet Potatoes, and Hilda inspired Candied Bacon and Hash Brown Quiche?
Breakfast for dinner? Uhhh..Yeah!
Date:  
Thursday, April 3rd at 7pm