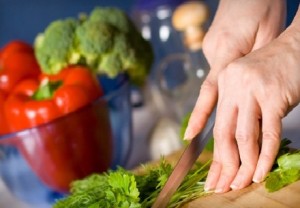 Title: Singular Sensations – Cooking for One
Location: The Cooking School at Irwin Street Kitchen
Description: (to the tune of A Chorus Line) One…singular sensation…every little meal you make.
One doesn't have to be loneliest number that you'll ever do. Au contraire, nos ami! We thinking dining alone is honoring, nurturing and even healing…and with that we've created a class that will teach you how to prepare and serve meals and snacks to the person you know best in all the world…YOU.
Learn how to shop, cook and prepare food for now and in the future with a minimum of stress and hassle.
Sample Menu:
Eggplant Parmesan
Meatless Lasagna
Ginger-Lime Chicken Stir-Fry
3-Cheese Mac & Cheese
Your choice of Ice Cream or Joyscream after class.
Date:
Friday, April 4th at 7pm