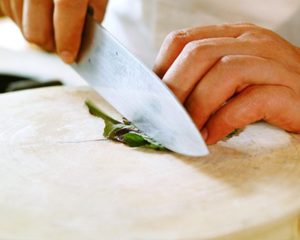 Title: Introduction to Knife Skills
Location: Cooking School at Irwin Street Kitchen
Knife skills are probably one of the most valuable things that you can learn in your kitchen! They are also the most important safety measure you can take while cooking. They not only open a world of new possibilities for cuisines, but they also keep your fingers safe! In this course I hope you leave with the knowledge of how to correctly hold a knife, how to sharpen the knife, the "claw" method, julienne, chiffonade, dice and batonnet.
In this class all your hard work will be turned into a delicious Asian Fusion Burger (hand patted turkey burger with chili aioli and topped with Asian Slaw) with a side of freshly cut fries marinated in a saltwater brine!

Upcoming Dates:
Sunday April 25th at 11am