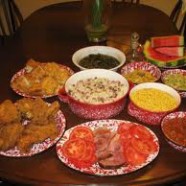 Jun

30
Tags
Related Posts
Share This
Regional American Cooking – the Southeast
Profiles in Flavor – American Regional Cuisine
The United States is called "The Melting Pot" to reflect the many various cultures that have settled here and made it their home.  Traveling through the four corners of the country reveals local specialties that show the mixture of  native cuisine and local ingredients with the customs and recipes brought with immigrants to this new land.    Tour through 4 of the major cultural areas of the country and discover the delicacies that make up their own special Regional Cuisines.
SE – The South East is more than just the land of Coca Cola and Bar-B-Que, although those are both important elements in the local eats.
Menu will include local specialties such as Vidalia Onions, Georgia Pecan Cake, Shrimp and Grits and more!