Share This
Recipes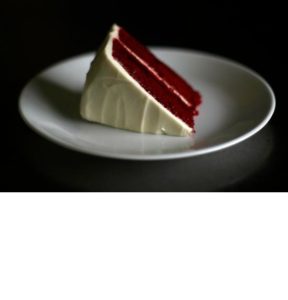 Recipes from Gluten Free Baking Class – December 8, 2011
Gluten Free Red Velvet Cake

Ingredients
2 1/2 cups gluten free flour see recipe below or use King Arthur
1 1/2 cups sugar
1 teaspoon baking soda
1 teaspoon fine salt
1 teaspoon cocoa powder
1 1/2 cups vegetable oil
1 cup buttermilk, at room temperature
2 large eggs, at room temperature
2 tablespoons red food coloring (1 ounce)
1 teaspoon white distilled vinegar
1 teaspoon vanilla extract
Cream Cheese Frosting, recipe follows
Crushed pecans, for garnish
Directions
Preheat the oven to 350 degrees F. Lightly spray 3 (9 by 1 1/2-inch round) cake pans.
In a large bowl, sift together the flour, sugar, baking soda, salt, and cocoa powder. In another large bowl, whisk together the oil, buttermilk, eggs, food coloring, vinegar, and vanilla.
Using a mixer, mix the dry ingredients into the wet ingredients until just combined and a smooth batter is formed.
Divide the cake batter evenly among the prepared cake pans. Place the pans in the oven evenly spaced apart. Bake, rotating the pans halfway through the cooking, until the cake pulls away from the side of the pans, and a toothpick inserted in the center of the cakes comes out clean, about 30 minutes.
Remove the cakes from the oven and run a knife around the edges to loosen them from the sides of the pans. One at a time, invert the cakes onto a plate and then re-invert them onto a cooling rack, rounded-sides up. Let cool completely.
Gluten Free Flour Mix for Cakes
3 cups white rice flour
2 1/2 cups tapioca flour
2 cups amaranth flour
1 1/2 cup sorghum flour
1 cup Ener-G egg replacer
Three recipes from Vegetarian Knife Skills class are now available:
Pearl Couscous with seared mushrooms
Cucumber Fennel Salad with Flamenco Chick Peas