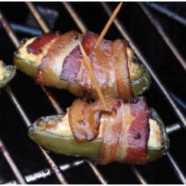 Share This
Chef Sandy Smoking Hot Recipes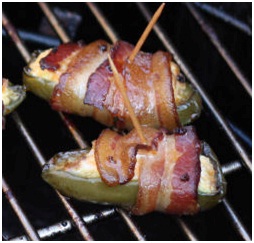 Smoked Stuffed Jalapeno Peppers
Smoker temperature:  225-250F
Wood:  hickory or mesquite
Ingredients:
12 large jalapenos
4 strips thick sliced bacon
Softened cream cheese at room temperature (8oz)
Colby Jack cheese, shredded
Washing peppers in cold water. Cut the tops off completely. Using a potato peeler or small paring knife, remove the membranes and seeds from inside of the pepper.
Combine cream cheese and Colby Jack.  Stuff peppers with cheese all the way to the top. Cut your strips of bacon into thirds and drape a slice of bacon over the top of each pepper, covering the opening.  Push a toothpick all the way through the bacon and pepper to secure the bacon and hold it in place.
Form a holder by taking an aluminum foil pan, turn it upside down and punch 12 holes in it, each about the size of a quarter. The peppers should stand up neatly in this. Cook the peppers for about an hour and a half or until they are nice and smoky and soft. The bacon should be cooked and somewhat crispy. Let them cool for about 15 minutes before you dig in.
Option:  omit sausages and add Colby jack cheddar to the cream cheese mixture
Can cut peppers in half, stuff with cheese and wrap with bacon, skewer with toothpick and smoke on grate.
SMOKED SHRIMP KEBABS
INGREDIENTS:
1 ½ – 2 pounds large or jumbo shrimp (20-25 pieces of shrimp)
½ cup extra virgin olive oil
6 cloves of garlic, finely chopped
2 tablespoons parsley, finely chopped
½ teaspoon cayenne pepper
½ teaspoon black pepper
½ teaspoon salt
Light your charcoal smoker approximately 30 minutes (or 10 minutes before with a gas grill) before you want to start cooking. 
Wrap your wood chips in an aluminum foil pouch or a metal smoker box. Punch holes in the foil pouch to let the smoke escape out the top.
Season your shrimp with all of the ingredients: garlic, parsley, cayenne pepper, black pepper, and salt. Next, drizzle the extra virgin olive oil on top of the shrimp.
Then skewer your shrimps on a kabob, going through each shrimp at the top and bottom.
Place your shrimp kabobs on your smoker once it is heated to 225 degrees Fahrenheit. Place the wood chip foil pouch directly on your charcoal or inside your metal smoker box. The smoke will rise and flavor your shrimp throughout the smoking process. 
Smoke the shrimp for about 30-35 minutes or until your shrimp reaches an opaque white color.