Share This
Gluten Free Pasta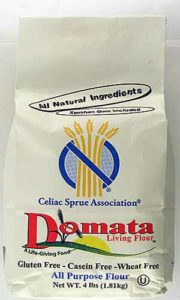 Gluten free Pasta
2.5 cups Domata Mills flour
3 large whole eggs
Place flour in mound on clean, dry surface
Create crater to drop and mix eggs into (one at a time)
Mix flour and egg together until you have to a soft ball that are not sticky.
To cut down on stickiness, add tiny amounts of flour and continue to knead thoroughly.
Divide the one ball into two and roll until almost paper thin.
Cut into shapes
Fill the centers with just two teaspoons of filling avoiding the edges so that you can get a good adhesion between the bottom shell and the top shell.
Crimp the edges with a fork on both sides
Boil for 8 to 10 minutes and serve.
Mix,fill, then rest at least 15 minutes…
Boil in unsalted water
At 10 minutes chewy soft like wheat roll
12 minutes softer, better
13 minutes for Stuffed
*What is chosen to be inside the ravioli changes the pasta slightly
to lighter or more chewy…. adjust accordingly. Chemical reactions
within the ricotta, lemon, walnut, etc affect the final outcome. Pay
attention to the acids & oils its stuffed with and also your resting time.