Share This
Class Descriptions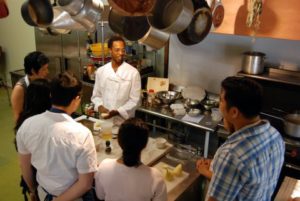 We have a variety of classes available at the Cooking School at Irwin Street, designed to accomodate all tastes and skill levels.
Here's a listing of our current classes, keep checking back though because we add classes every week to keep our options fresh!
Baking 101 – Baking basics from our baking expert all the basics and more. Menus change and will be noted on calendar: options have included cookies and bars; easy cakes with frosting, and quick breads.
Baking 201 – More advanced baking to include fancy desserts to enjoy and share. Chef Jennifer will share her tips and short cuts with you on baking, assembling, finishing desserts sure to impress your guests.
Culinary Arts and Excellence – Lead by Chef Hopeton, this advanced class features 4 or more important culinary skills with a full meal to enjoy. May include poaching, braising, steaming, roasting as well as knife skills and garne manger skills.
Gluten Free Living – Our gluten free series includes baking classes similar to our regular baking series but with no gluten in sight, menu options listed on calendar.
Haute Hot Hot Salsa in the Hot Hot Summer – An adult punch (watermelon margarita) will be served while farm-to-table salsa and chips will be made. The chips will be made from home-made tortillas.  We will also be teaching guacamole… HOLY guacamole, that is.
Ice Cream – Secrets to making your own Gourmet Frozen Confections, Sorbets, Ice Creams both Dairy and non from the Ice Cream King, Jake Rothschild.
Knife Skills 1 – Introduction to Knife Skills, learn to peel, pare, chop and dice like a pro. Follow up with Knife Skills 2.
Knife Skills 2 - The follow up to Knife Skills 1, this class will expand your skills to cut up a chicken, and do advanced vegetable cuts. Also instruction on how sharpen and keep your knives.
Note: you must attend Knife Skills 1 to attend this class.
Mister Marmalade – Make marmalade from scratch… prepare, cook and can with Jake. Take home a delicious spread to enjoy!

Nutrition 101- The basics of nutrition focusing on whole foods, with a mostly vegetable based diet of nutrient rich foods. Includes recipes and tips for improving you diet to increase energy and boost metabolism.
One Hour Herbs- One hour classes focusing on cooking with the most popular herbs. Varies week to week.
Pastabilities – In very popular pasta class, you will make a pasta a sauce from scratch to eat and enjoy. Currently we offer Ravioli and Gnocchi, choice will be noted on calendar.
Play with Your Food – Its a mother and child/father and child reunion… in the kitchen. This parent/child class will help you make your child an ASSET in the kitchen. Basic, vital culinary skills, fun recipes and created and lead by our very own Willy Wonka our founder and ice cream/chocolate magician himself Jake Rothschild.
Profiles in Flavor – Chef Christy's profiles classes focus on a different cuisine each month with a blend of history, culinary skills and delicious foods prepared. Options may include: France, Italy, Spain, Germany, Ireland, Africa.
Smoking Hot – Learned to prepare and cook smoked meats and more with Chef Sandy.
Soup from Scratch- Make a homemade soup from broth to bowl. Options change and vary from Homemade Chicken Soup to Tomato Basil Bisque to Hearty Chowders.
Superfoods, Superfast, Supereasy - Learn to cook a nutritious meal in minutes focusing on Superfoods high in nutrition and tastes. Menus may include Salmon with Braised Kale and Sweet Potato Wedges or Mushroom Melange with Mixed Greens and Winter Squash Mash.
And also on our current calendar…
Weekends are social times at the Cooking School – we are offering special classes perfect for date night or gathering together your group!
Creole Cooking Part 1 – Southern cooking at it's best with Creole style cooking done with a healthy twist. Smart and Delicious, Chef Diana Darris shares her magic in our kitchen, with the first in her series of Creole cooking classes.
Laissez Bon Le Temps Roux Lez  – Make Gumbo and more from scratch with Chef and Jazz Musician Eric Reid.
Southern Buttermilk Chicken and Biscuits – Chef Diana Darris serves up Creole style recipes, tips and maybe even a few family secrets in this class!
And keep in mind we are open for events also! We are happy to create a class from these offerings of tailored for you and your guests!
For more info on these classes see our scheduling page.