Share This
Chef Jennifer Recipes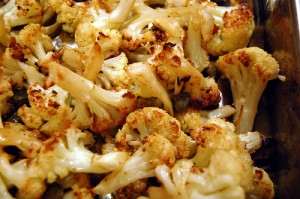 Here are recipes and some nutritional information from my recent classes
Baking for Two Class
Blender Chocolate Mousse
Ingredients
1 12 oz package semisweet chocolate chips
½ cup white sugar
3 eggs
1 cup hot cream
3 TB brandy
Directions
In an electric blender container, combine chocolate chips, sugar and eggs. Blend. Add hot milk and brandy. Blend until smooth, pour into cups or bowls and refrigerate until serving.
Nutrition Class Series and Superfoods Class
Roasted Cauliflower
1 head of cauliflower
1 – 2 tablespoons of quality olive oil
sea salt
pepper
Wash cauliflower and cut off the outer leaves, stem and bottom rind. Cut the whole head in half, then place the cut side down on the cutting board and slice down through the head making large slices about ½ -3/4 inch thick.
Lightly spread a roasting pan with olive oil, and lay the cauliflower down on the base of the pan, turning once to coat both sides. Scrape all loose bits of cauliflower and broken florets into the pan as well.
Roast in a 375 degree oven for 15 minutes then toss to turn, add sliced garlic, and return to oven. Continue to roast until all the edges of the large pieces and the little bits are brown. Remove from the oven, toss in the pan again to coat, and liberally sprinkle with sea salt and ground pepper.
You can also use this method for carrots, Brussels sprouts or any combination.
Carrots: 4-5 medium carrots, wash, peel (if you use baby carrots you can skip this step), trim off ends, cut into sticks by cutting in half, then half again, place cut side down on cutting board and cut into 1" sticks
Brussels sprouts: buy small Brussels sprouts that have compact, tight heads with no loose leaves. To prepare for cooking: wash well, cut off stem at base, and cut in half
Combo: prepare each vegetable, mix together or place in pan separately
Time saving tip: this dish makes great leftovers which you can eat as a side dish,
use top off a green salad or stuff in a pita with hummus for a great sandwich
Turkey Burgers makes 4 – 6 burgers
1 lb ground turkey
1 tb Braggs Liquid Ominos
½ cup Milled Flax Seed
1 clove, garlic minced
1 medium onions, diced
1 cup Spinach, chopped coarsely
4 tsp Sea Salt
½ tsp Cajun Spice
1 tb olive oil for veggies and 1 tb for browning burgers.
Preheat oven to 350. In a saute pan with a heat proof metal handle, sautee chopped onions in olive oil until onions are clear. Add cajun spice, salt, garlic and spinach and continue to cook until spinach is wilted. Cool slightly. Place turkey in a mixing bowl add milled flax seed and cooked veggies. Mix well and form into patties. Brown patties in 1 tb olive oil turning when ½ done, once burgers are flipped, place pan in oven and cook app. 15 minutes.
Turkey is a good source of low fat protein, high in B vitamins and minerals including selenium. Turkey is also high in trytophan which increases serotonin levels. This recipe also contains spinach high in vitamin C and fiber. Milled flax seed rich in EFA and Omega fatty acids.