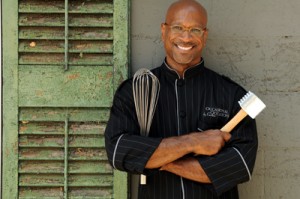 Chef Carlton is an accomplished culinary professional who has tickled the palates of celebrities Who's Who such as Supermodel Beverly Johnson, Former Mayor Andrew Young, Reverend Jesse Jackson, Bishop T.D. Jakes, the late Mr. E. Lynn Harris (national bestselling author), Nikki Giovanni (Grammy-nominated American poet), Ian Smith, M.D. (award winning medical correspondent for NBC News), Karyn Greer (Clear News WGCL-TV Anchor Woman), and the late Mrs. Coretta Scott King.
He has also provided services to such corporate giants as; American Express, Morgan Stanley & Co., Hewlett Packard, Office of the Mayor, Wells Fargo, 100 Black Men of Atlanta, Georgia Pacific, Atlanta Journal and Constitution and Cox Communications  just to name a few.
Chef Carlton was voted the #3 Cater in Atlanta for 2009 in "The Best of Atlanta" featured in the Atlanta Tribune: The Magazine.  He is an active member of the International Catering Association and the American Culinary Federation.  His cuisines and presentations are the mark of true talents, which can be viewed via his website at www.occasionaloccasions.net.
Tags
Related Posts
Share This